Medical Protective Celebrates the 100-Year Anniversary of Protector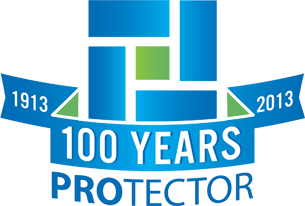 Fort Wayne, IN (August 2, 2013) – Medical Protective, the nation's oldest and highest rated healthcare malpractice insurer, is pleased to announce the 100-year anniversary of its renowned risk management journal, Protector.
"While healthcare risk management and patient safety initiatives are relatively recent focus areas for some, MedPro has been committed to helping our healthcare providers reduce risks and improve outcomes for their patients for over a century," said MedPro President & CEO Tim Kenesey. "As one of the nation's first healthcare malpractice risk management publications, Protector represents MedPro's unwavering commitment to our healthcare providers and their patients."
Just as healthcare delivery has evolved, Protector has grown over the years to meet new challenges in the practice of health care and the changing needs of the healthcare community. From shorter commentary to more robust articles with collateral tools and resources, Protector strives to provide insureds with comprehensive and diverse risk management material. Additionally, since 2011, MedPro insureds have had the opportunity to earn continuing education credits through Protector – a free and convenient option for busy providers.
Read the full article here:
Medical Protective – Medical Protective Celebrates the 100-Year Anniversary of Protector.
About Medical Protective
With over $800 million in annual premium, MedPro is a national leader in healthcare malpractice insurance coverage and risk solutions for physicians, dentists, hospitals and healthcare systems, as well as other healthcare facilities and healthcare professionals. As the nation's first provider of healthcare malpractice insurance, MedPro has been protecting the assets and reputations of healthcare providers for more than 110 years. Healthcare malpractice insurance products are underwritten and provided by The Medical Protective Company, Princeton Insurance Company, MedPro RRG – all rated A++ (Superior) by A.M. Best – and other Berkshire Hathaway affiliates, on both admitted and excess and surplus paper, and are distributed through a nationwide network of appointed agents and brokers. MedPro is a Berkshire Hathaway business. More information about MedPro is available at www.medpro.com.